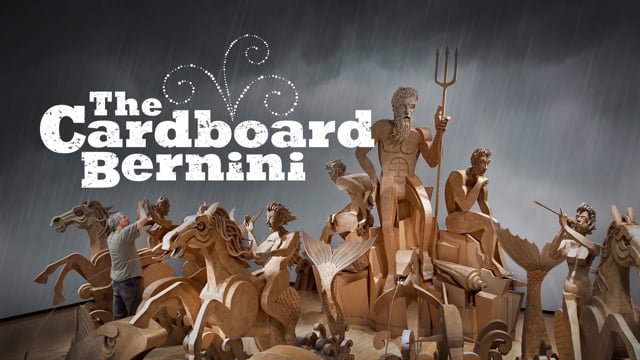 About the Film
The Cardboard Bernini examines the work and life of artist James Grashow as he builds a giant cardboard fountain inspired by the work of the famous baroque sculptor Gian Lorenzo Bernini.
James Grashow is an artist who has built—among many other things—giant 15 foot tall fighting men, a city and an ocean using paper mache, fabric, chicken wire and cardboard. More recently, he has begun making sculptures entirely out of corrugated cardboard and twist ties.
Several years ago, while visiting the home of his art dealer, Allan Stone, he stumbled across some of his giant fighting men that had been put outside due to lack of space. They were disintegrating. Although it was deeply painful and shocking for him to see his work like that, it was also surprisingly beautiful. He felt that he was seeing the full arc of his artistic enterprise before him—including its end.
So, Grashow challenged himself to embrace the "backend" of his process, and decided to build a giant cardboard fountain—a Grashow "Bernini." From its conception, he intended this work to be put outside to disintegrate. Work on the fountain began in 2007 and was completed in 2010. This film documents this process from the start to finish.
Grashow's "corrugated fountain" premiered indoors on June 11, 2010 at the Taubman Museum of Art in Roanoke, Virginia, to great acclaim. After shows in New York City and Pittsburgh, he finally installed the fountain outdoors at the Aldrich Museum of Contemporary Art in Ridgefield, CT on April 1, 2012. It was there for a total of six weeks, after which time Grashow took his degraded cardboard masterpiece to the dumpster: "Ashes to ashes, mush to mush."
This film is an intimate glimpse of an artist at work on what he considers his "final epic." We follow Grashow as he asks what is the point of art and creation? What is the connection between creation and destruction? And, ultimately, what is the point of our lives in the face of our mortality?